Custom Digital Transgender Bathroom Murals
Center on Halsted (COH) is the Midwest's most comprehensive community center dedicated to advancing inclusiveness and the health and well-being of the Lesbian, Gay, Bisexual, Transgender and Queer (LGBTQ) people of Chicagoland. Designed and built by global architecture firm, Gensler, and located in the heart of the Lakeview neighborhood, more than 1,000 community members visit the Center each day.
COH works hard to provide a safe and welcoming environment for all of its visitors. Advancing this mission was the decision to create two transgender bathrooms, one male-identified and the other female-identified, for the second floor of the building

.

It was my honor to create large floor-to-ceiling digital murals that celebrate the diversity and beauty of the Center's patrons for these spaces. Sprinkled with inspiring quotes of reassurance and positivity, my intention for this project was to contribute a colorful and affirming message of joyfulness, sensitivity, respectfulness, beauty and hope to all who view it.
The murals are currently in the final stages of development and are awaiting installation.
Male-Identified Bathroom (34'8"'w x 8'h

- gray areas indicate support structures and partitions)

Female-Identified Bathroom (34'8"w x 8'h - gray areas indicate support structures and partitions)
"To love oneself is the beginning of a lifelong romance."
"You have brains in your head. You have feet in your shoes. You can steer yourself in any direction you choose. You're on your own. And you know what you know. You are the guy who'll decide where to go."
"Just because you are blind and unable to see my beauty, doesn't mean it does not exist."
"As far as I'm concerned, being any gender is a drag."
"This isn't about 'becoming' another person - I already am who I am - I just want my body to reflect that. It's not like I'm suddenly changing from the person you've always known. This is more about your willingness to see who I've always been."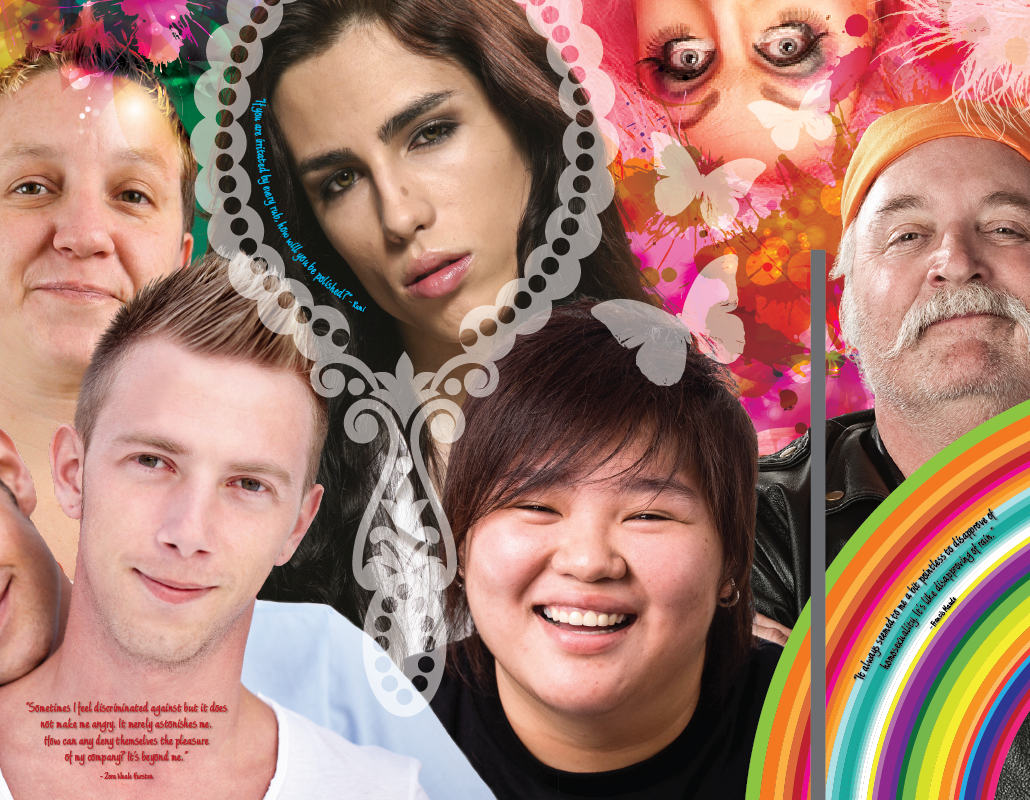 "Sometimes I feel discriminated against but it does not make me angry. It merely astonishes me. How can any deny themselves the pleasure of my company? It's beyond me."
"If you are irritated by every rub, how will you be polished?"
"It always seemed to me a bit pointless to disapprove of homosexuality. It's like disapproving of rain."
Female-Identified (Detail)
"You must be the change you want to see in the world."
"Your vision will become clear only when you look into your heart. Who looks outside, dreams. Who looks inside, awakens."
"Be who you are and say what you feel because those who mind don't matter and those who matter don't mind."
"To be nobody but yourself in a world which is doing its best, night and day, to make you like everybody else means to fight the hardest battle which any human being can fight; and never stop fighting."
"We must let go of the life we had planned so as to have the life that is waiting for us"
"Beauty is about being comfortable in your own skin. It's about knowing and accepting who you are."
"It's a helluva start, being able to recognize what makes you happy."
"Life isn't about finding yourself. Life is about creating yourself."
Male-Identified Transgender Bathroom (Before)
Female-Identified Transgender Bathroom (Before)